Downloadable Personalized Gifts
---
Testimonials
Hi, I just want to say thank you again for my wee frame, my mum absolutely loved it!!! She phoned me almost in tears!!

Leigh, Northern Ireland
This is beautiful! It is better than described. Jolie was also great at communicating about the order and answering queries. Thank you.

Sally, Leeds, United Kingdom
Fantastic service! I bought a beautiful picture when I moved house. And I ordered a personalised picture with a tight deadline as a gift. Jolie went above and beyond to have it ready on time. And I was thrilled with how it turned out. Top class service. I'll be back! 

Lesley-Ann, Antrim, United Kingdom
Jolie was so helpful to me in my quest. She was thoughtful, kind and empathetic to what I was asking for. The standard of work produced was 1st class and beautiful! Perfect for the memories I was trying to create. Highly recommend this lovely and very talented lady. xx

Wini, United Kingdom
So pleased with my recent purchase from JolieArt! I was given prompt service and work arrived in great time! Thank you! It was just what I wanted- would highly recommend.

Averil, Aghalee, Northern Ireland
Hi. I just wanted to say a huge thank you for the order you sent last month. My friends (who got married) love it!! It's so special and I am very grateful for your work and art. Thank you!!

Katrina, Northern Ireland
Beautiful pieces of art created by a very caring heart!

Ciara, United Kingdom
Absolutely delighted with this item. Jolie made it specially for my son's confirmation gift and he was so touched by it. Jolie is extremely professional, but does everything with such a personal touch, which is why I frequently use her to create special gifts for my family.

Suzanne, Portstewart, United Kingdom
What a beautiful gift this made!!! Extremely unique, very eye-catching with the gorgeous colors.
Jolie is extremely pleasant and wonderful to work with. I would highly recommend her shop!!!! I wish I had taken a picture of the artwork, but totally forgot.

Michele, Middleburg, FL, USA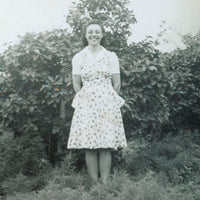 The Inspiration Behind JolieArt
This is my grandma, the source of much of my inspiration. She had a smile that made everyone feel warm and had an infectious laugh that you couldn't help but join in on, even if you had no idea why she was laughing. Her hugs were the absolute best thing in the world. A simple hug said so many things...I love you, I'm proud of you, you're amazing, I'm always on your side...a hug from Grandma always made your heart smile.
Grandma grew up during the Great Depression, so didn't let anything go to waste. She'd cut old shirts, jeans or anything that had outlived its usefulness into pieces to be used for appliqué or patchwork. In her younger days she worked at a factory, where she once rescued wax from the garbage. She sculpted that into a bust of my uncle. It was seriously impressive! I just love how Grandma could take something that most people see as rubbish and turn it into something beautiful.
It's those memories and a thousand more like them that inspire me. I want to be like her and create beauty out of the unexpected. And more importantly, I want it to make you feel like Grandma's hugs made me feel.